Thurston County CFD Recognition Event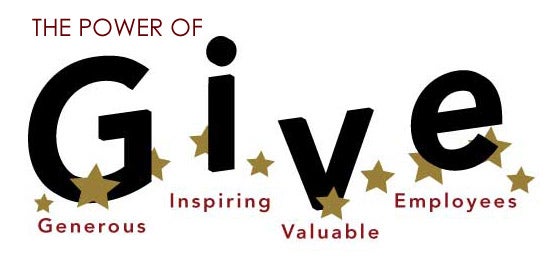 On March 21, 2013, the Combined Fund Drive (CFD) Thurston County Steering Committee and State CFD office recognized CFD volunteers for their work in 2012. The theme of the evening was "The Power of G.I.V.E. (Great, Inspirational, Valuable Employees)" and the event thanked all the volunteers from Thurston County who inspired state employees help raise $5.3 million for the community.
The event kicked off with Thurston County awards to recognize individuals and volunteers for their hard work. The winners of the 2012 awards were as follows:
2012 Outstanding Team Award – Department of Health
Laura Homan, Sherry Thomas, Cher Williams, Kim Francis, Andie Keller, Marlena Nash, Rachel McKinlay, Cheri Carter, Johanna Flynn, Mary Hepburn, Mary Roberts, Chara Chamie, Colleen Arceneaux, Julie Alonso, Marissa Floyd, Sherry Carlson and Julie Tomaro.
This team worked exceptionally well together and put on an awesome campaign! Everyone took on a role and led by example. No matter the task this group of outstanding volunteers was there to help.
2012 Rookie of the Year Award – Janice Williams, Department of Social and Health Services, Western State Hospital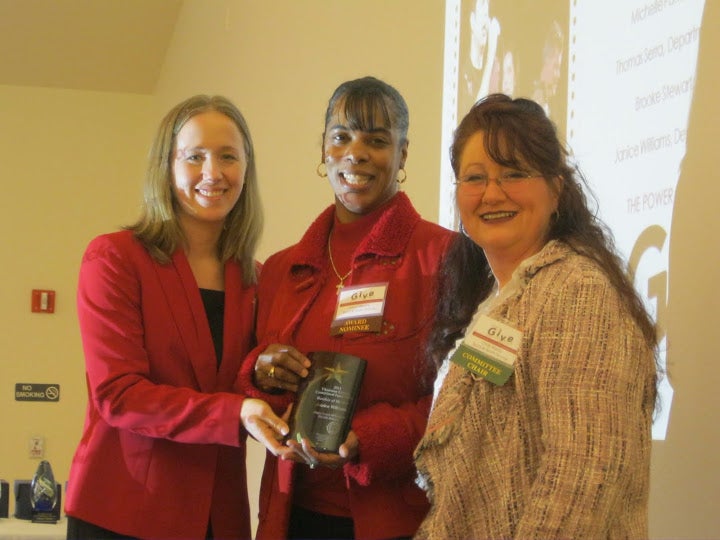 Janice brought her inner light to the task of Local Coordinator and thanks to her efforts, Western State Hospital went from 107 donors (a steady decline over the last 3 years) to a RECORD high 139 donors! All of these were first time donors. Western State Hospital also raised $2,600 through an inaugural online silent auction for a charity called Grave Concerns Association in large part to Janice's efforts to repeatedly engage people in "OUR campaign!"
2012 Outstanding Event Award – Washington State Patrol Investigative Assistants Division
Chris Sweet, Traci Gurley and Rhonda Tucker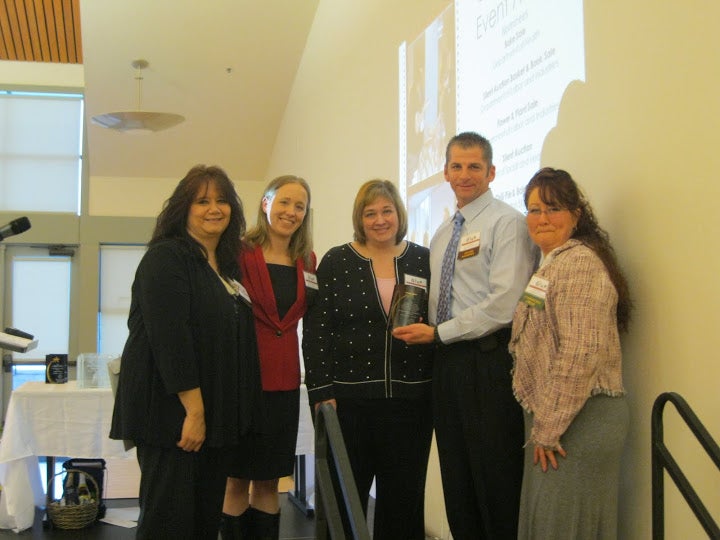 This event was the first CFD fundraiser the Investigative Assistance Division held and it was a huge success which featured food, donations from staff for the bake and craft sale, as well as some great door prizes for participants.
The heart of the fundraiser was a well planned presentation by the featured charity, the Missing and Exploited Children's Task Force, that overflowed the seating capacity of the presentation room. The Investigative Assistance Division Office raised over $900 in three hours. These donations will help this charity upgrade equipment to combat the exploitation of children.
2012 Sustained Excellence Award – Laura Homan, Department of Health
Laura worked hard to create streamlined communication, organization and fun, creative ideas for charity events. This combination of traits increased participation, donations and payroll deductions throughout her years volunteering with the CFD. The Department of Health CFD team membership also tripled from last year, thanks in part to Laura's strong passion for volunteering, her warmth, enthusiasm, organization and encouragement in leadership roles. She inspired the Department of Health team by providing support at every event, leading by example and always being open to new and better ways to do things to ultimately benefit the CFD.
2012 Paul Grudis Outstanding Volunteer Award – Blaine Gunkel, Washington State Patrol
Blaine Gunkel received this year's Paul Grudis award for his outstanding work with both the Washington State Patrol Memorial Foundation and Senior Services for South Sound. He served as president on both boards for these charities and also played a critical role in fundraising events. His ability to inspire people to give and his genuine care for everyone in the community opened many pocket books at fundraising events. The two 2012 events that Blaine participated in raised over a $100,000 combined.
The recognition didn't stop there. Following the Thurston County Awards, the Office of the Secretary of State presented state level awards for outstanding work with the Combined Fund Drive:
Greatest Percent of Participation within a Small State Agency (1-100 employees)
Office of Civil Legal Aid – 100%
Economic and Revenue Forecast Council – 100%
Joint Transportation Committee – 100%
Law Enforcement Officers' and Fire Fighters' Plan 2 Retirement Board – 100%
Washington Pollution Liability Insurance Program – 100%
Greatest Percent of Participation within a Medium State Agency (101-500)
Department of Retirement Systems – 53%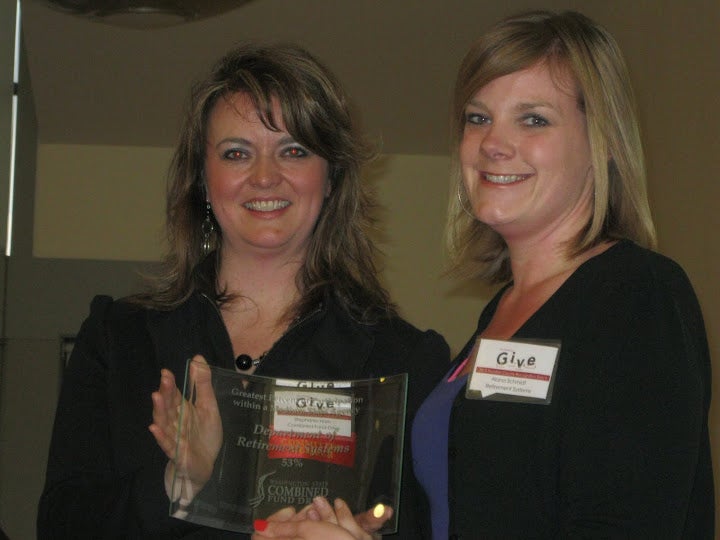 Greatest Percent of Participation within a Large State Agency (more than 500)
Department of Ecology – 31%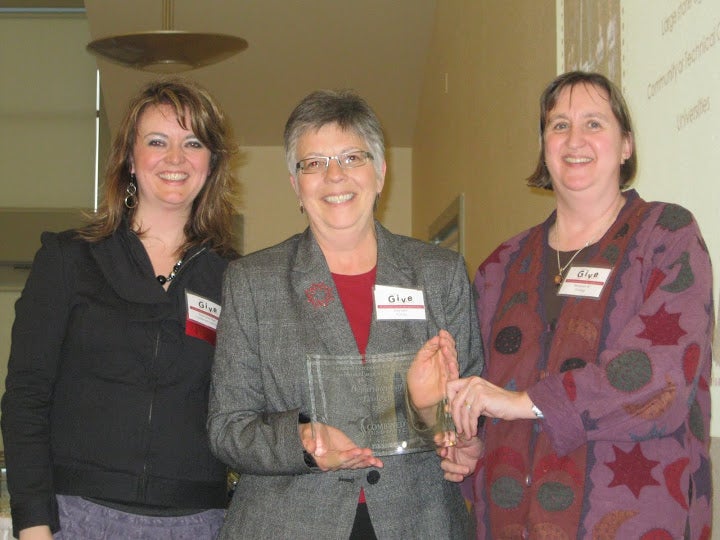 Sam Reed Executive Leadership Award
Mary Selecky, Department of Health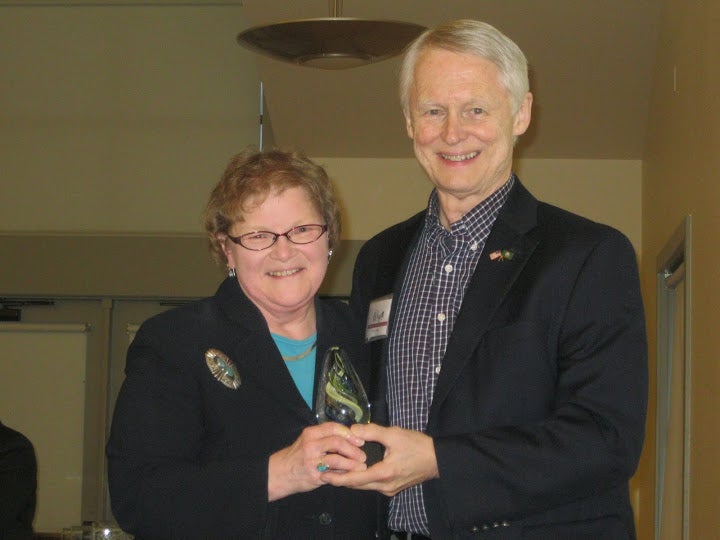 Sam Reed was on hand to congratulate his close personal friend with the award for Executive Leadership, which was given in his name to honor the support he gave the Combined Fund Drive during his years in public service. Selecky was celebrated for her efforts on what would become her final campaign as Secretary of the Department of Health.
Ross Bunnell Local Coordinator of the Year Award
Chara Chamie, Department of Health
Chastity Walck, Department of Labor and Industries
Campaign Leader of the Year Award
Sherry Thomas & Laura Homan, Department of Health
Sherry Thomas and Laura Homan were responsible for one of the best statistical campaign years the Department of Health has ever had in the Combined Fund Drive, and were give Campaign Leader of the Year honors as their reward.
The time, effort and dedication Thurston County's volunteers and donors give makes a difference in the lives of so many people in Washington State, across the country and entire world. They are truly great, inspirational, valuable employees who make a difference every day with their Power of GIVE.