A Message from Secretary of State Sam Reed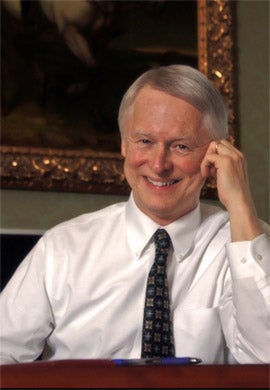 Greetings,
Since the Washington State Combined Fund Drive was moved to my office two years ago, we have focused on improving all aspects of our state's charitable giving program.
We are now faced with critical challenges. Recent budget cuts to our agency have rendered us incapable of fully subsidizing the Combined Fund Drive. As a result of these budget shifts, the Combined Fund Drive has inherited new costs. These costs include rental and facilities fees, as well as IT and fiscal support. Combined with a slight drop in revenue, the CFD had administrative costs of 13 percent in 2011.
As a firm believer in the power of charity, I recognize that every dollar a donor gives to the cause of their choice should be maximized, and though the Combined Fund Drive continues to operate well below the 35 percent costs recommended the Better Business Bureau, I find our administrative costs unacceptable as a new status quo. That is why we have taken the following steps to combat our growing costs:
Searching for venues to lower rent/facilities costs
Seeking agreements to significantly lower printing costs on CFD marketing materials
Allocating some of our limited resources to pursue outside corporate sponsorship to bring down the costs of doing business
Restructuring current purchased and personal services contracts to optimize the program's return on investment
Acquiring dedicated IT staff to help revamp our site, making it easier for our stakeholders and ultimately leading to greater revenue generation
We view these costs as temporary, and are committed to reducing them. I ask for your patience in the upcoming year knowing that the dedicated staff at the Combined Fund Drive is working tirelessly to bring down our administrative costs at every opportunity.
As always, if you have any questions about administrative costs, or any other issues related to the Combined Fund Drive, please do not hesitate to call Stephanie Horn, Special Programs Director, at 360-704-5258.
Regards,
SAM REED
Secretary of State
CFD Financial Breakdown
For the calendar year of 2011
| | |
| --- | --- |
| Total Donations Received | $5,232,414.64 |
| Interest Earned on CFD Fund Balance | $9,111.83 |
| Total Administrative Costs | $690,814.88 |
| Total available for distribution | $4,550,711.59 |
| | |
| --- | --- |
| Total Administrative Percentage for CFD in 2010 | 13.18% |
CLICK HERE FOR A MORE DETAILED FINANCIAL REPORT.
Benefits of Giving
Benefits to Donors
Easy. Simply choose between automated payroll deduction and a one-time gift.
Targeted. You choose the contribution amount and the charities receiving your gift.
Safe. A donor can give with confidence that their information will not be stolen.
Tax deductible. You have a record of your payroll contribution.
Choice. Give to the causes you are most passionate about by choosing from over 3,800 approved charities or writing in your favorite charity.
Effortless. By using the payroll deduction option, you can spread your donation out over the entire year making it even easier to support your favorite charities.
Benefits to Charities
Charities save time and money. Fewer staff are needed to process individual donations. Charities save the expense of multiple fundraising campaigns, so more dollars go to services.
Charities can budget. Regular donations allow charities to better forecast their upcoming activities.
Charities depend on workplace giving. The Combined Fund Drive is one of the most inexpensive forms of fundraising and one of largest sources of income for charities.
Charities reach state employees. Through the Combined Fund drive, charities have access to over 103,000 state employees to whom they might not otherwise have the opportunity to reach.
Benefits to Communities
Your donations help to achieve stronger, healthier communities locally, nationally, and globally by supporting programs in the following categories:
Animals and the Environment
Disaster Relief and Emergency Services
Health and Medical Research
Arts, Culture, and Humanities
Education and Literacy
Hunger and Food Distribution
Human Services
International Relief
CFD Unspecified Fund/Federation Partners
Children, Youth, and Family Services
Housing and Homelessness
Senior Centers and Services